Our Strategic Branding Process
How to build a strategic brand for your business that stands out & gets you noticed.
Branding is typically thought of as a logo, name or tagline that identifies a company or product from its competitors. 
While it's true that all of those elements form part of a brand, in reality they're only one small part of your greater brand identity.
So what does it really mean?
In The Brand Gap, Marty Nueminer defines branding as "what people say about your business when you're not in the room or their gut feeling about your company, product or service".
David Aaker categorizes it as "a set of expectations, memories, stories and relationships that, taken together, account for a consumer's decision to choose one product or service over another" in Aaker on Branding.
At Highly Persuasive, we define branding as 'how a company, individual or organization is being perceived in the marketplace by everyone outside of the company'. In other words, it's what people think your business is like versus what it's actually like. 
Regardless of how you word it, branding is about creating, maintaining &  managing the perception of your business in the eyes of your audience.
When approaching a re-brand for your business, it's always a good idea to get an overview of what's involved in each phase of the branding process.
Strategic Branding Process Overview
Brands are complex marketing assets made up of different elements & touchpoints that progress & change with your business over time. 
When approaching a rebrand, it's always a good idea to get an overview of what's involved in each phase of the process, so that you can consider what needs to be included in your brand identity.
To keep things consistent, we follow a four-step branding framework designed to discover key insights about the business & audience and build a brand experience to match their needs wants & desires.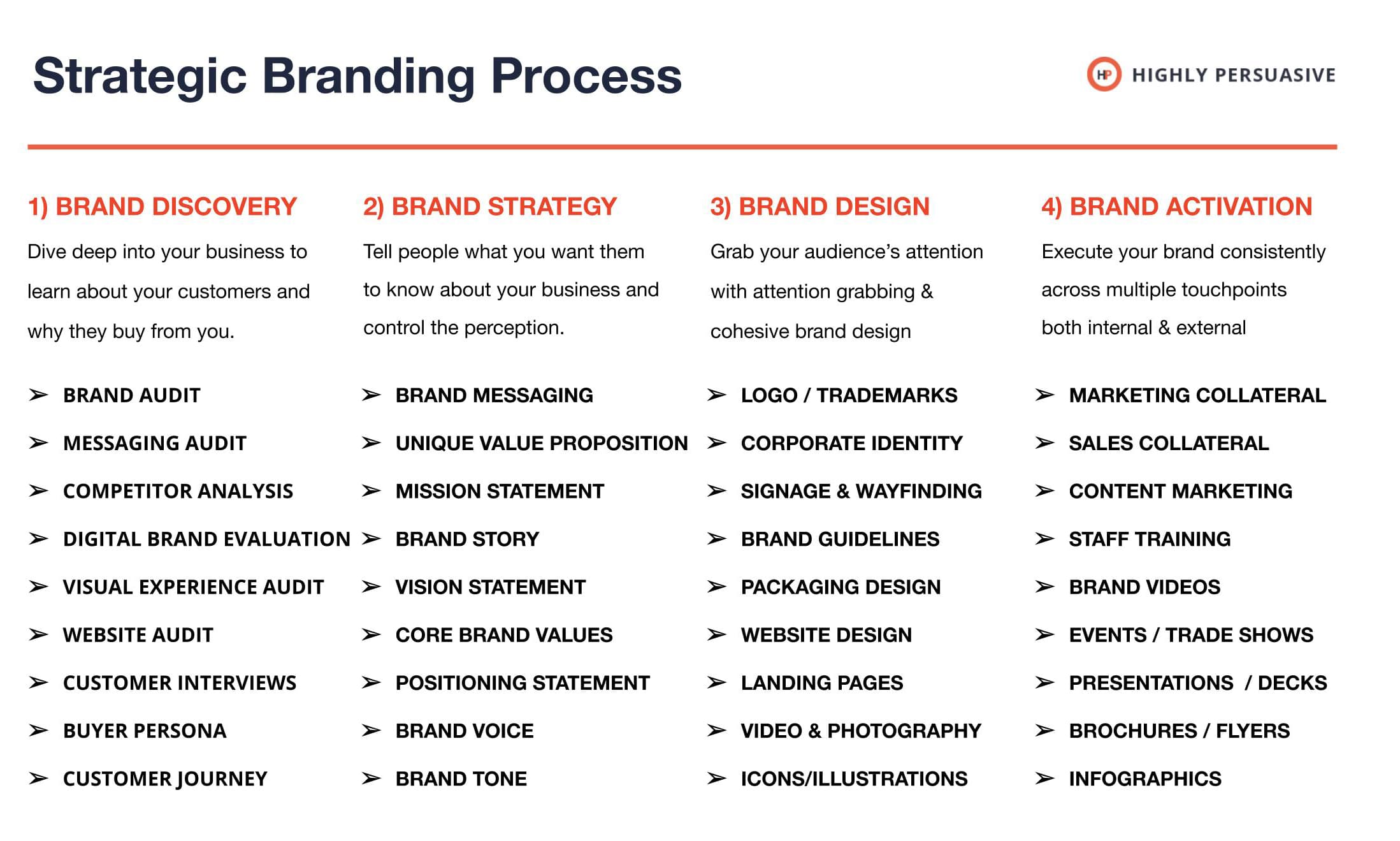 1. Brand Discovery → 2. Brand Strategy → 3. Brand Design → 4. Brand Activation
Below you'll find a brief overview of our framework with a brief overview of some of the 40+ elements that go into our branding process.
1) BRAND DISCOVERY
Brand discovery is a thorough examination of your brand's current position in the market compared to your competitors and a review of its effectiveness with customers.
In this phase you need to dive deep into your business to learn about your customers and why they buy from you, developing in-depth buyer personas that are used in the key development of your brand strategy.
We also evaluate your current brand & researching your industry, competitors & customers, to uncover areas of opportunities & sources of friction with your customers.
• BRAND AUDIT
Brand audits are a thorough & in-depth examination of your brand's position in the market compared to your competitors.
• COMMUNICATION AUDIT
Assess your brand's native tongue by analyzing the language, tone, and messaging surrounding your business at different touchpoints.
• BUYER PERSONA DEVELOPMENT
Buyer personas help you understand who you're talking to, what they care about & what problems they're trying to solve.
• BUYER JOURNEY MAPPING
Document how customers buy from you and which solutions they're trying to achieve by mapping out the buyer's Journey for your products and services.
• COMPETITOR ANALYSIS
Find out what your competitors are doing right (and wrong) in the eyes of your customers and capitalize on opportunities for unique positioning & advancement within your industry.
• WEBSITE &  DIGITAL BRAND EVALUATION
Uncover areas of opportunity & concern by evaluating your website & how it makes your brand look in the eyes of your audience.
• SEO AND SEM AUDIT
Understand buyer intent by researching & evaluating how your customers buy online to structure your website and marketing to better guide your customers through the buyer's journey.
• VISUAL EXPERIENCE AUDIT
Analyze the tone, mood, & feel of your brand along with competitors to determine customer expectations in terms of design, aesthetics & style across your industry.
• CUSTOMER INTERVIEWS
Have strategic interviews with your customers that result in high-value insights for your organization that you might not have otherwise uncovered.
2) BRAND STRATEGY
In this phase, it's all about taking the insights gathered in the brand discovery phase & identifying & the core values of your business to create a brand strategy that's centered around the needs & expectations of your audience.
Claim a unique place in the market with brand positioning that resonates with your audience and positions your brand as a thought leader within your niche.
• BRAND POSITIONING
Set the tone for your customer's first impression of your brand by claiming your own unique place in the market.
• POSITIONING STATEMENT
Create your most powerful conversion tool; a unique positioning statement that defines who you are/what you do/how you're different.
• MISSION STATEMENT
Mission statements are a testament to who your brand is & what you're trying to achieve.
• VISION STATEMENT
A testament to who your brand is & what you're trying to achieve.
• BRAND VALUES
The guiding principles that your brand lives by & what you instill in the culture, from the leadership to employees.
• BRAND PERSONALITY
Give your brand a living and breathing personality with opinions and outlooks on the world that your audience can relate to.
• BRAND VOICE
Your brand voice is what you say. It's a consistent style of communication for use across all environments — online and offline — The objective is to express your position, showcase your identity and engage with target clients.
• BRAND TONE
Your brand tone is not what you say, but how you say it. Your brand tone is how you will use your brand voice to speak to different audiences and environments.
• BRAND STORY
Tell the story of your brand through strategic narratives that exemplify your brand attributes and reinforce your core brand position.
• BRAND MESSAGING
Tell your brand's story the same way every time with strategic brand messaging that unifies your communication in a cohesive messaging strategy. Brand voice and messaging humanize your brand, making it relatable to your customers.
• BRAND ARCHITECTURE
Organize your products and services in a cohesive and connected system that's uniquely yours.
• BRAND NAMING
Strong brand names convey a company's unique value proposition & instantly differentiate it from the competition.
3) BRAND DESIGN
Your customers live in a world of constant interruptions & distractions. In order to capture their attention & make a memorable first impression, your visual brand needs to represent your brand strategy in a way that stands out & gets noticed.
Once the core brand strategy is in place, it's time to apply the brand in the visual design. Everything from the logo and corporate identity to the website and marketing materials is designed to reinforce the core brand strategy development above.
This section depends a lot on your budget and the extent of the brand applications needed, but the goal of the brand identity is to communicate your brand characteristics that provoke the ideal thoughts, feelings, emotions & positioning targeted in the brand strategy across multiple mediums and touchpoints.
• LOGO / TRADEMARKS
Your logo acts as the visual trigger point between your customers and your brand. It should look and feel like your brand strategy & match your positioning.
• CORPORATE IDENTITY & VISUAL SYSTEMS
Represent your brand visually across multiple formats & keep your communications consistent with uniform design.
• TAGLINES
A short & catchy message that describes what your brand does, what you stand for, who you help or other key messaging.
• COLORS
Use color to create direct associations between your audience & your brand by applying it consistently & uniformly across formats.
• TYPOGRAPHY
Like color, brand typography helps you reinforce your brand in different mediums by using one consistent font family & styles in all of your print & digital communications.
• BRAND GUIDELINES
Keep your brand principles consistent throughout your organization with a comprehensive guidelines book.
• PACKAGING DESIGN
Stand out on the store shelves with attention-grabbing packaging design. Express your positioning by how you design the packaging.
• WEBSITE DESIGN / DEVELOPMENT
Create a  branded website that acts as the foundation for all of your digital marketing campaigns & conveys your sales and marketing messaging around the clock.
• WAYFINDING & SIGNAGE
Get people where they need to go by creating signage that guides people through an indoor or outdoor environment and enhance their understanding and experience of the space as a whole.
• BRAND ILLUSTRATIONS
Create a branded art direction with custom illustrations & visual assets that you can use in your sales and marketing collateral.
• ICONS
Create a unique set of icons or symbols to help people quickly navigate content or make sense of complex information.
4) BRAND ACTIVATION
Brand activation is the process of executing your brand consistently across multiple customer touchpoints & channels with the express purpose of increasing brand awareness & getting more people to know about your business.
The number one problem that most businesses face when it comes to leads & revenue is lack of awareness. People just simply don't know that you exist, but if they did you could do business with some of them.
Once you have the message in place, you need to get it heard.
But it doesn't just apply to new brands. When approaching a Rebrand, businesses can't just make a few changes and hope everyone will notice, we need to make sure people are aware of it.
Here are some ways to implement brand activation in your sales & marketing activities.
• MARKETING COLLATERAL
Create a unified brand presence throughout print and digital that's works to reinforce your brand strategy & drive awareness at multiple touchpoints.
• STAFF TRAINING WORKSHOPS
Get everyone on the same page with  brand workshops and customer service training.
• BRAND VIDEOS
Get in front of your ideal customers with engaging videos that tell the story of your brand.
• EVENTS / TRADE SHOWS
Show up in person, confident and in sync, with an integrated brand experience on the event floor.
• PRESENTATIONS
Develop compelling presentations designed to keep your audience engaged.
• BROCHURES
Tell your brand story through print and give customers a tangible asset they can share with coworkers and friends.
• INFOGRAPHICS
Distill complicated and dry information into a fun and easy to consume visual experience that's 3 times more likely to be shared than articles.
• CULTURE & EMPLOYER BRANDING
Carry your brand throughout the company by building a strong brand culture with employees that attract & retain top talent.
Next Steps: Plan Your Brand Strategy
Hopefully, this has given you a new outlook on branding & why it's crucial to differentiate from competitors & communicate value to your audience in today's competitive landscape.
Planning out your new brand strategy can feel daunting, but it doesn't have to be!
We've created a new brand strategy planning template for business owners & business leaders to simplify the brand development process & make brand planning more strategic & effective by planning out your branding strategy from 50,000 feet.
Plan your brand strategy outline from a bird's eye view

Understand which brand elements are most important

Narrow focus to what you need now vs later
Download it here:
https://www.highlypersuasive.com/brand-strategy-tool
Who is Highly Persuasive?
Highly Persuasive is a strategic branding & marketing agency based in Bangkok & Miami. We help businesses around the world build attention-grabbing brands that stand out & get noticed.