How To Go Digital: Five Ways Business Owners Can Increase Online Visibility Right Now
As Covid-19 forces people around the world to stay at home and help stop the spread of this deadly virus, many business owners and leaders are unsure how this will impact business in the coming weeks and months. 
Some say the economy is headed for a great depression level recession, others say we'll bounce back. It's too early to say what the lasting effects of this crisis will be, but here's what we know so far:

1) People will be spending a lot more time at home as we all self-isolate
2) Online search volume, user & some commercial activity is going to skyrocket
3) Businesses need to fully adapt to digital in order to stay relevant
Regardless of your industry one thing is clear, if your business is not prepared for this sudden transformation to digital, you risk losing out to competitors who are better optimized to do business online. 
To help you get started, we put together four actionable strategies you can take to help your brand be more visible online and reach customers and potential customers that might need your services now and in the near future.
1) Set Up Google My Business To Boost Your Local SEO
If you're just getting started with focusing your business online, Google My Business is one of the first places to start.
Together with on-page SEO, optimizing your Google My Business profile correctly will help you see noticeable improvements in local search rankings (local seo), especially if you haven't yet set up or fully optimized your online properties before.
How Does Google My Business Help You Reach More Customers?
The main objective of Google My Business is to have your business's key information like address, phone, email, hours, services, service areas, photos, reviews and more consistent and verified with Google.
This helps Google show your brand for local searches related to the services you sell (local seo). Your business can show up all over Google properties in places like search, maps, images, voice, shopping, and more
How To Set Up Google My Business

To get started, go to google.com/business and follow the steps on the screen. 
You'll want to make sure that you fill out all of the different areas in order to maximize your exposure across Google properties. At the end of the process, you'll need to verify the business, usually via postcard to confirm it's a real address. 
Google My Business Step By Step Guide:
https://www.brightlocal.com/learn/how-to-set-up-google-my-business/
2) On-Page SEO: Optimize Your Website To Boost Search Traffic & Rankings In Local Service Areas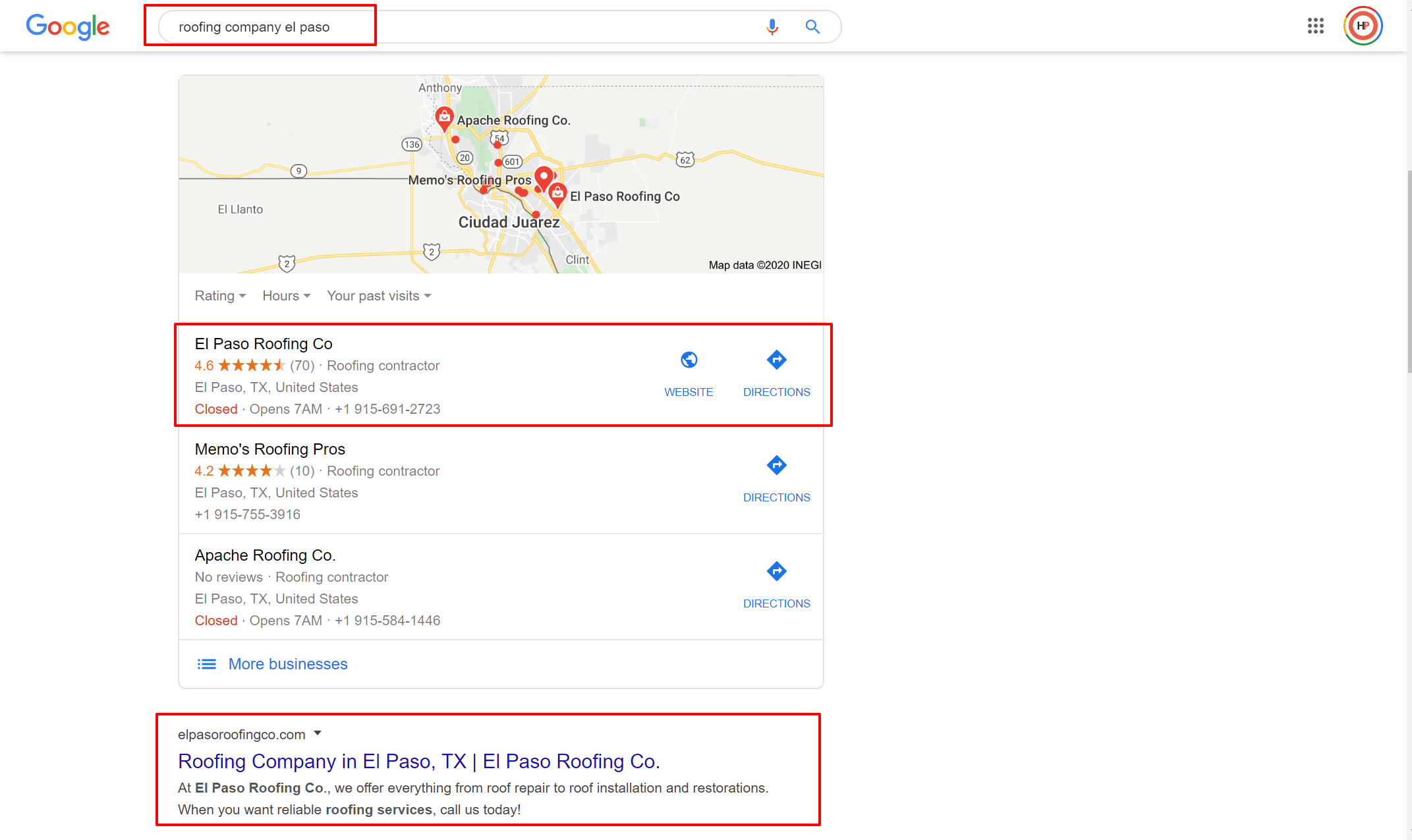 On-page SEO is the act of optimizing your website for keywords and phrases that people are searching for in Google related to the services you sell in the locations you service. 
As an SEO Agency, we work a variety of different businesses, but regardless of industry, one of the most common SEO mistakes is incorrect on-page SEO optimization.
On-Page SEO For Roofing Company
If you are a roofing company based in El Paso, TX, your website's homepage might be something like "Home – Company Name" or simply "Company Name".
The problem is that most of your ideal customers probably don't know your brand name, so they aren't going to be searching for you by name unless they're referrals. 
But what they are searching for are the products and services you sell.
For example, in many local service-based businesses, people generally search for service + location like "roofing company el Paso" or "roofing Contractor in El Paso".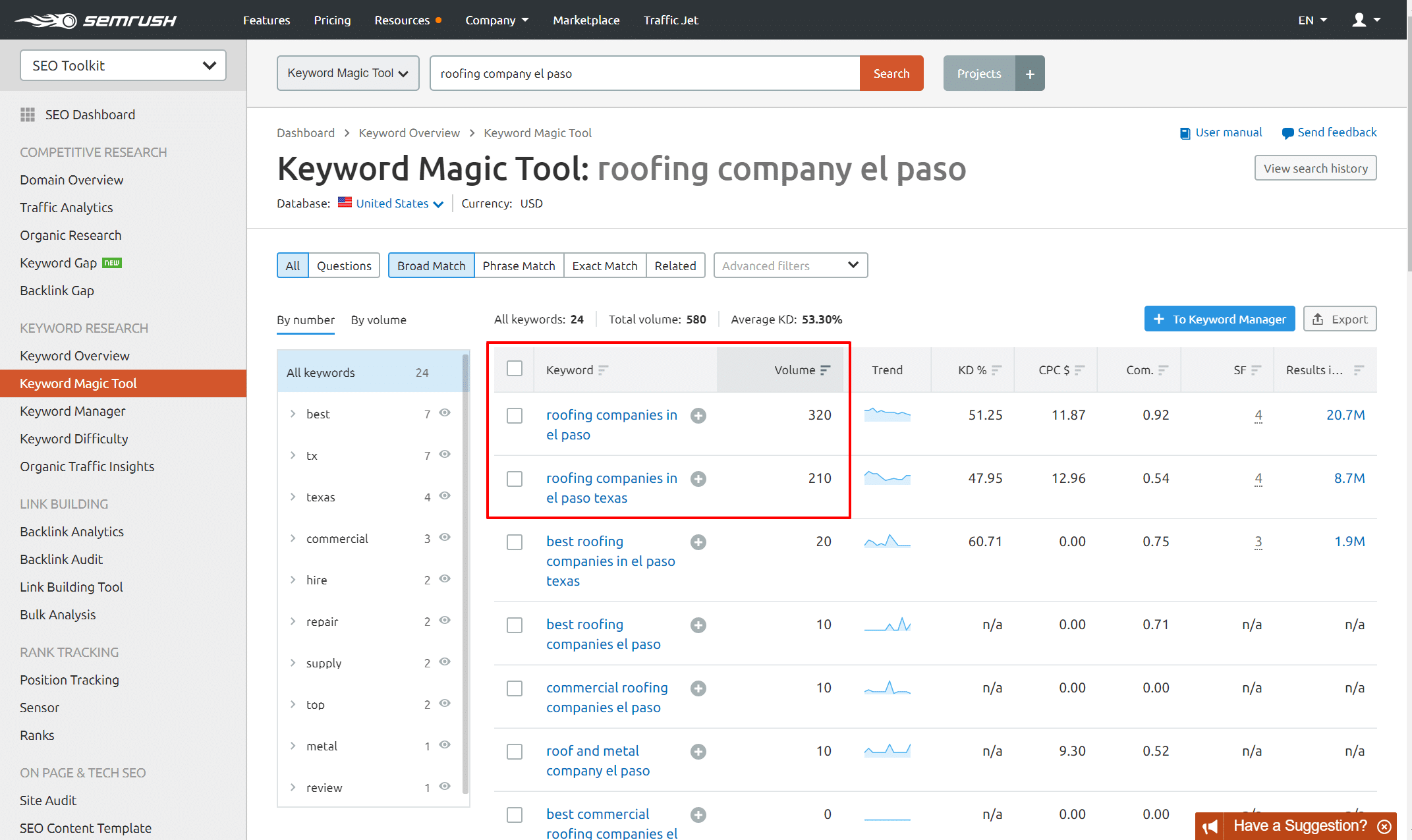 By optimizing your website to include these targeted keywords (on-page SEO optimization), you can rank your website higher in Google for keywords related to your business. 
All on-page SEO optimization starts with profressional SEO keyword research to see what people are actually searching for in your local service areas. You can use this link to get a free 7-day pro trial.
Unfortunately, on-page SEO alone isn't enough to rank you high in the search results. You also need a solid off-page SEO campaign focused on building links, increasing authority and boosting your rankings for a list of target keywords.
On-Page SEO Step By Step Guide:
https://backlinko.com/on-page-seo
3) Local SEO: Get Access To More Targeted Website Visitors by Ranking Your Business Higher in Local Search
Local SEO is the practice of optimizing your business to appear higher in the Google search results for keywords related to your service areas. 
For example, "electrician in Houston" or "plumber San Diego". Research shows that 46% of all searches in Google have "local intent" attached to them. 
How is Local SEO Different Than Regular SEO?
Where digital SEO targets national or international ranking positions in Google search, Local SEO is focused directly on ranking higher in search for your immediate service area based on your office location(s).
Although these types of searches might get fewer searches, these local searches are often highly qualified & lead to much higher conversion rates overall.
In order to take advantage of local SEO and rank your business higher in search for keywords related to your city + services, you need to optimize your website for local SEO.
Local SEO Guide Step By Step:
Local SEO: The Definitive Guide (2020).
4) Use Email Marketing Automation To Target The 97% Of Your Audience Who Isn't Ready To Buy Right Now

Did you know that only 3% of your true market is ready to buy right now?

It sounds shocking but it's true. 97% of your audience isn't ready to buy right now and won't even consider buying until some point in the future, if at all. 
Many companies make the mistake of focusing only on the immediate sale by targeting the 3% but miss out on the huge opportunities to cultivate and educate the 97% over time by staying top of mind & providing value until they are ready to buy. 
Why You Should Use Email Marketing Automation In Your Business
Digital marketing campaigns that combine content marketing with a solid email marketing campaign allow you to send out content & educate your audience over time with content they find valuable, helpful or entertaining.

In other words, when someone signs up for your email marketing list, you're sending them out a series of emails featuring content they'd find valuable or helpful. 
Note that you're not sending promotions and direct selling, which is the quickest way to get blocked and deleted, but that you are doing some soft selling in some of the emails.

Over a period of time, a portion of your audience will indeed become ready to buy the services you provide and you'll almost certainly be one if not the only companies they consider.
If you're new to email marketing, we recommend checking out this email marketing guide from Mailchimp, but if you don't have time to learn and implement an entire email marketing system, we also offer email marketing as part of digital marketing campaigns.
5) Get Instant Access To Qualified Leads & Prospects With Pay Per Click Advertising (PPC)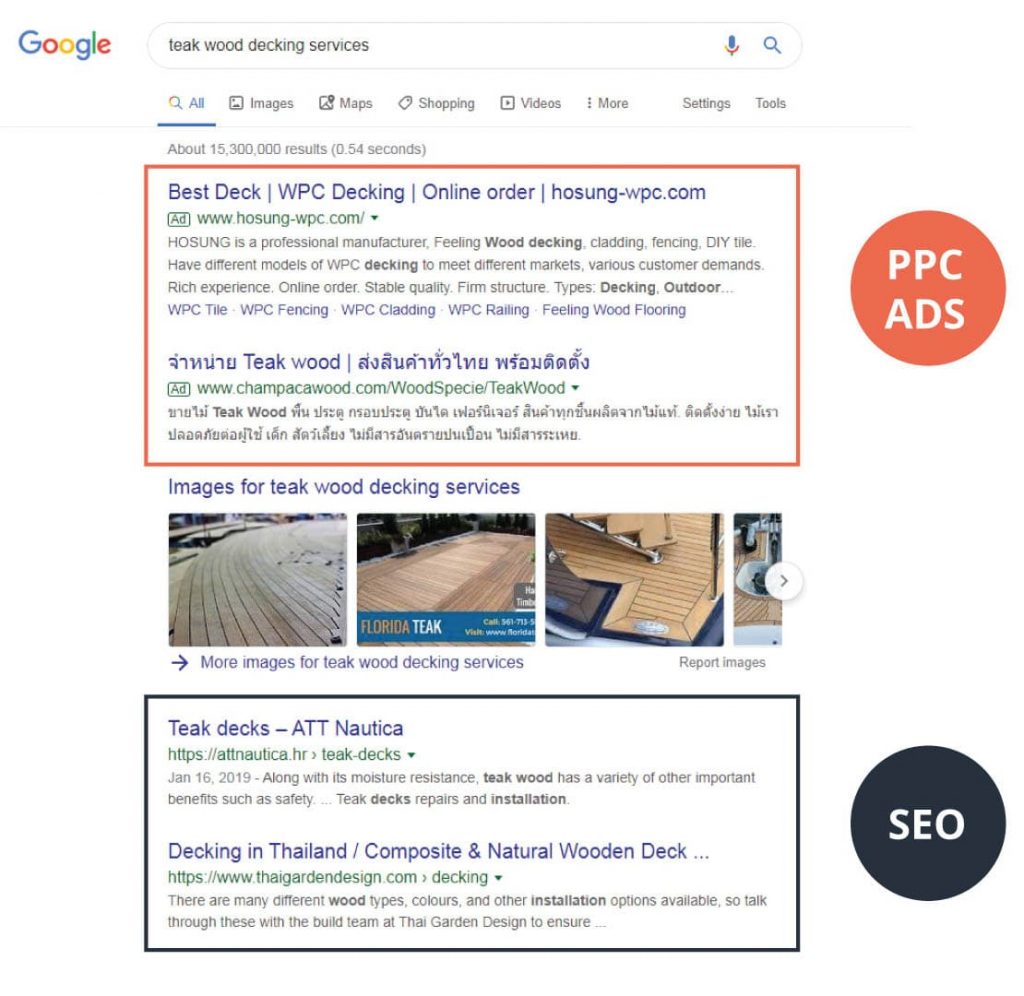 The fastest way to generate qualified leads is to buy them.

You can buy directly from lead brokers that specialize in your industry or purchase unwanted leads from your direct competitors, but the most lucrative leads are the ones you get yourself. 
The best way to generate them is with a targeted PPC advertising campaign. 
Why Use Pay Per Click To Generate Leads?
Pay Per Click advertising is one of the fastest ways to acquire targeted leads for your business online. It's expensive but can be super effective for professional services companies with high-value services.
If you have the budget, you can consistently acquire 3-5-10+ new clients every month and still generate a significant return on ad spend (ROAS) over the lifetime value of your customer. 
In competitive industries like roofing, construction, plumbing & electric, a pay per lead acquisition strategy is often factored right into the pricing & business model. In fact, we know of one roofing company in Denver spending more than $40,000 per month just for lead acquisition alone.
But you don't need a massive budget to make PPC work for you, you just have to get more targeted, more consistent & more creative.
Does Pay Per Click Work For Every Business?
Successful PPC advertising depends greatly on what you sell, where you're located, and who you're competing against.

In major metropolitan cities, cost per click for professional services businesses can easily range from $30-$50+ per click which makes it difficult (but not impossible) for smaller businesses to generate a return on investment.
On the other hand, if you're average project is worth $18k, you can afford to spend a lot more to acquire a customer and PPC can generate a massive return on investment in a short period of time.
How To Setup & Run A PPC Advertising Campaign
Setting up & running a successful PPC campaign is a complex topic with many moving parts and is beyond the scope of this article.

If you're interested in running a PPC campaign for your business, check out the PPC Guide for Beginners or you can hire us to manage your campaigns.
Next Steps:
In a perfect world,  you'll want to implement all four of these strategies in your business and simultaneously as they all work together to help you reach more of your ideal customers in your service areas.
If you can implement just one or two of these in your business, you're sure to see noticeable results in search traffic over the next 14-30 days and beyond.

Want Us To Do All of This For You?
Highly Persuasive is a digital marketing and SEO agency focused on B2B, hospitality & professional services. 
If you don't have time to implement these steps and would prefer for us to fully optimize your entire business for digital, including these and 60+ other SEO optimization points, please click the get started button in the top right corner of this page and fill out the brief inquiry form.
Complimentary Digital Marketing Strategy Session
The coronavirus is forcing us all to re-evaluate the ways in which we do business. If you need some help planning out your strategy for the coming months and how to transition your business to digital full time, we're here to help.
Right now we're offering complimentary digital marketing strategy sessions for business owners to go deeper into your digital marketing strategy and discuss how you're going to generate leads, inquires and sales over the coming months.
The goal of the session is to help business owners and leaders examine the immediate steps needed to increase visibility online and create a paid lead generation system to bring in new customers online on a regular basis. 
Reserve Your Digital Marketing Strategy Session Now
https://www.highlypersuasive.com/marketing-strategy-session/
READY TO MAKE YOUR


BUSINESS MORE PROFITABLE?
Fill out the brief inquiry below and we'll be back in touch, usually within 1 business day or sooner
[gravityform id="1″ title="false" description="false" ajax="false"]